EZ-Screen 700
$15,900
For Those Who Want To Up The Ante On Increasing Productivity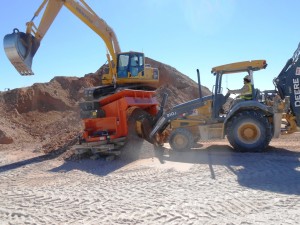 With its larger,heavy duty single-deck screen, the EZ-Screen 700 is ideally suited to work with loaders with buckets ranging up to 1 ¾ yards.  While the 700 is big enough for most screening jobs, it's still light on its feet for site-to-site mobility.  Move it anywhere in the yard – as well as off-site.  It's equipped with a standard tow-hitch, safety chains, trailer tires and lights.
To squeeze out even more productivity, when mobility isn't the priority, the 700 is easily mounted atop standard cement blocks.  This stationary positioning permits working with even larger loader buckets.  The height lets fines and oversize pile higher to cut down on the cycles hauling them away.
To make your choices easier, the EZ-Screen 700 comes with just two options. If you prefer diesel-power, that's available with a Kohler 10 HP unit for an additional $1987.
Naturally, the 700 comes with all the usual EZ-Screen features.  Like our patented non-hydraulic screen drive for greater energy efficiency; 2000 lb. incline adjustment jacks on all four sides; numerous screen choices to match your operation and materials; and a baked-on powdercoat finish, and the most important feature of all –
EZ-Screen personal service.  It comes with every screener we sell.  No matter what size.
---
The EZ-Screen 700 is …
Compact, Portable & Profitable!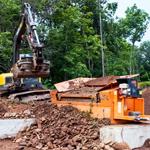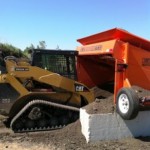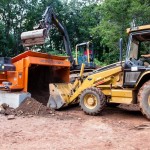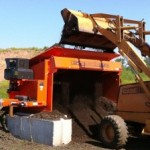 "I call it my big, orange money machine."
 Desmond W., Windsor, VT
"Our EZ-Screen hasn't had even a minute of downtime. Nothing but on-site productivity."
 David M., City of Kirksville, MO
"How does it compare with competitors' screeners? Better and cheaper."
 Mark W., Arundel, ME
EZ-Screen 700 Dirt Screener Specifications
EZ one-person operation
Frame is constructed of structural, tube steel which reduces vibration, decreasing susceptibility to cracks and structural failure that is common with C-channel construction found on inexpensive screeners
All EZ-Screen surfaces are sandblasted, then treated with a baked-on powder coat finish
Loading bucket size range from ½ to 1-3/4 yards with a 9' (2.74m) feed/fines width. Inside access for bucket is 50" x 9' (1.27m x 2.74m)
Feed height at hopper 76" (1.93m)
Single deck 6' x 5' (1.83m x 1.52m) Screen Box with end tensioned screen. Hundreds of screen combinations available.
Includes four (4) 2000 lb. (907.18kg) jacks to adjust the angle of the screen for varying materials
Honda™ GX270 9-HP single cylinder, gas engine with hour-meter standard
Optional Kohler™ 10-HP air-cooled diesel with optional electric start
Fully enclosed, lockable engine compartment and starter panel
EXIDE™ "AGM" battery for long life in a vibratory environment
Patented non-hydraulic EZ-Kinetic Screen drive
Tow hitch with safety chains with 2-5/16" (5.87cm) ball with 3" (7.62cm) lunette ring option available
12-volt wiring harness with trailer lights for legal towing
14" trailer tires
High-speed pre-greased hub set
Overall length:
Overall width: 6' 1" (1.86m)
Overall height: 6' 3" (1.91m)
Overall weight: 3,360 lb. (1524.07kg)
Argus Industrial Co., L.L.C. has a policy of continuous product improvements and reserves the right to change specifications, designs or prices anytime without notice or the incurring of any obligations.
Revenue Calculator
How Much Money Could You Make?
Fill in the numbers below to find out.
Designed by and built for Argus Industrial Co.
What is Section 179 and how can it save you money?
Section 179 is a part of the IRS tax code that allows businesses to deduct the full purchase price of qualifying equipment during the tax year. To read more about Section 179, check out the links below, along with their deduction calculator to find out how much this tax code could benefit your business. As always, check with your tax advisor for more details.
Understanding the Section 179 Deduction