The "Idea" that started Argus
For twelve years I was employed at Michigan CAT and witnessed the sales explosion in skid steer loaders. At the same time I became interested in the recycling and composting efforts that were then gaining popularity. Here was an opportunity, I thought, for a smaller affordable screener, one matched to a skid steer & smaller loaders, easily transported from site to site.
That was the inspiration for the EZ-Screen 1000 back in the spring of 1996. I had a prototype built and towed it to equipment shows all around the country. I put on a quarter of a million miles on my truck doing this, but I knew I was on to something when at the first show I sold eight machines. I had to max out my credit card to get them built!
Over the past twenty years I've built the company, expanded its offerings, and developed incredible long-term relationships with both customers and vendors. I never lost faith because I knew I was doing the right thing. What drove me besides keeping the lights on back home was what I learned in my years working at Michigan CAT: excavating and landscape contractors are the best customers a company can have. They get up early, give an honest day's work, and are fair to a fault.
And that's exactly how Argus works.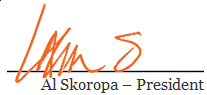 Argus Industrial Co.
Argus is… The highest quality, job-proven screeners at the lowest possible prices, backed by the best warranty in the business.