EZ-Screen 1000XL
$25,900
Before You Spend This Much Money On A Screener, Better Ask Some Very Important Questions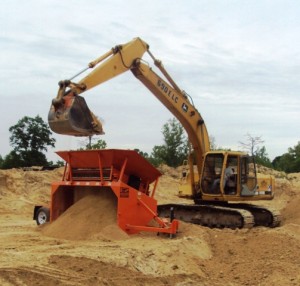 First, is it versatile?  Topsoil, gravel, aggregate, wood chips, street sweepings — bring them on!  The 1000XL is an everything-in-one portable screening plant, designed to handle whatever kind of screening work that needs to be done.
Is it trouble-free?  The simpler a machine is made, the more rugged and dependably it'll work.  The 1000XL's design, craftsmanship and rigorous field-testing prove this philosophy.  Add in low maintenance costs and ease of operation, and you've got your answer.
Is it a good value for the money?  Judged on versatility, productivity, low maintenance, long life and dependability – especially after you factor in its low cost – the 1000XL is way ahead of competitive screening plants.
Is it easily portable?  A few simple strokes of the hand-operated jack and the axle assembly lifts the 1000XL solidly into the transport position, ready for travel.  Just hitch it up to a 1-ton pickup and tow it to the next site.  Portability adds to versatility and productivity.
How green is it?  Only one line of portable screening plants is equipped with the Kinetic Green Drive System – EZ-Screen.  We may paint them orange, but they work very green.  The patented, vibratory drive recaptures energy and redirects it to increase efficiency and lower costs.  It's a case of more engineering brain power being better than horsepower.
The EZ-Screen 1000XL scores an "A" in the above test.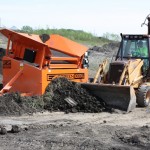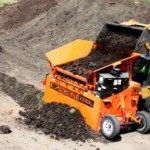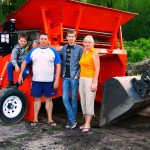 ---
Here's What Dan from Kleen Blast Abrasives Says About the 1000XL …
"I call it my big, orange money machine."
 Desmond W., Windsor, VT
"Our EZ-Screen hasn't had even a minute of downtime. Nothing but on-site productivity."
 David M., City of Kirksville, MO
"How does it compare with competitors' screeners? Better and cheaper."
 Mark W., Arundel, ME
EZ-Screen 1000XL Soil Screener Specifications
EZ one-person operation
Frame is constructed of structural, tube steel which reduces vibration, decreasing susceptibility to cracks and structural failure that is common with C-channel construction found on inexpensive screeners
All EZ-Screen surfaces are sandblasted, then treated with a baked-on powder coat finish
Loading bucket size range is up to an 8' (2.44m) wide bucket. Matched to work with ½ to 1 ¾ yard loaders. Inside access for bucket 9'4" (2.84m)
Feed height at hopper 8' 3" (2.52m)
Double deck 6' x 5' Screen Box with end tensioned screens. Hundreds of screen combinations available.
KOHLER™ KD-440 single cylinder air-cooled diesel engine, 10-HP with low and high temperature shut down, hour meter and electric start is standard
Fully enclosed, lockable engine compartment and starter panel
EXIDE™ "AGM" battery for long life in a vibratory environment
Patented non-hydraulic EZ-Kinetic Screen Drive
Dual-stage air filter system with pre-cleaner
Tow hitch has safety chains, 7,000 lb. (3175.15kg) capacity jack, break-away controller and battery and can be equipped with either 3" (7.62cm) lunette ring with 2-5/16" (5.87cm) ball hitch option available
Sealed wiring harness with lights for legal towing
6,000 lb. (2721.55kg) capacity axle on rear with EZ Screen exclusive hand activated rear pivoting assembly with electric brakes
225/75R15 "E" range 8 ply trailer tires plus detachable mud flaps
High-speed pre-greased hub set
Overall length: 13' 3-3/4" with tongue folded
Overall width: 5' 8" (1.72m)
Overall height: 8' 3" (2.52m)
Weight at tongue: 1,760 lb. (798.32kg)
Overall weight: 5,462 lb. (2477.52kg)
Argus Industrial Co., L.L.C. has a policy of continuous product improvements and reserves the right to change specifications, designs or prices anytime without notice or the incurring of any obligations.
Revenue Calculator
How Much Money Could You Make?
Fill in the numbers below to find out.
Designed by and built for Argus Industrial Co.
What is Section 179 and how can it save you money?
Section 179 is a part of the IRS tax code that allows businesses to deduct the full purchase price of qualifying equipment during the tax year. To read more about Section 179, check out the links below, along with their deduction calculator to find out how much this tax code could benefit your business. As always, check with your tax advisor for more details.
Understanding the Section 179 Deduction