$9,900
EZ-SCREEN 550
---
HERE'S WHERE GETTING THE MOST FOR YOUR SCREENER MONEY STARTS.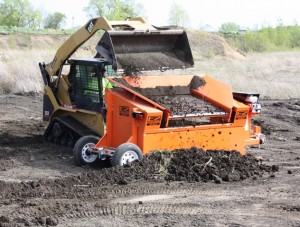 If you're looking for a low investment but a fast payback in a 5' x 4' single-deck screener, we've got your number.  550.  As in our EZ-Screen 550.
Screening topsoil, it's one mean machine that can be driven hard day in and day out without complaints.  In fact, we build our smallest machine with the same ruggedness that goes into our bigger units.  To back up our boast, we give the 550 a two-year warranty.  That's how confident we are that it can take whatever you dish out.
Match the 550 with a ¾ yard skid-steer with a 84" bucket, and you've got a rock screening/topsoil screening production team made for one another. One that'll also handle the soft stuff like compost, all the way up to hard metals.
Powered by a reliable, fuel-sipping 5.5 HP Honda gas engine, the 550 features a patented non-hydraulic vibratory drive that delivers aggressive screen action that'll shake the fines out of anything loaded into it.  And it'll do it better, cheaper and greener than any competitive screener.
Flexibility comes as easily as snapping in different available screens – rock, sand, soil.
Low maintenance is also a big 550 plus, along with EZ-come, EZ-go portability. Portability enhanced by the 550's rigid structural integrity. Just hitch it up to to a ½-ton pickup and haul it off to the next job.
---
"I call it my big, orange money machine."
 Desmond W., Windsor, VT
"Our EZ-Screen hasn't had even a minute of downtime. Nothing but on-site productivity."
 David M., City of Kirksville, MO
"How does it compare with competitors' screeners? Better and cheaper."
 Mark W., Arundel, ME
---
EZ-SCREEN 550 SPECIFICATIONS
Loading bucket size range 1/2 to 1 yard (84″ or less)
Feed height at hopper 68″
Inside access for bucket 100″ wide X 48″ high
Overall length – 14'10″
Overall width – 55″
Overall weight – 1,960 lbs.
Includes (4) 2000-lb. jacks to adjust the angle of the screen for varying materials
5' X 4' deck screen box with end tensioned screen
The deck is equipped with a woven screen cloth (size options available)
Single cylinder Honda 5.5 HP gas engine
Patented non-hydraulic aggressive vibratory drive
All EZ-Screen surfaces have a baked-on powder coat finish
Wiring harness with lights for legal towing
Tow hitch has safety chains and is equipped with a 2-5/16″ ball
High-speed 4-lug bolt pre-greased hub set
B78 X 13″ Tires, Load Range "B"
Download the EZ-550 Brochure!

BioCycle Davidson College Compost
File Type: PDF
File Size: 529KB
Designed by and built for Argus Industrial Co.