EZ-409 Trommel
$79,900
Because Sometimes It's Better To Roll Than Shake And Rattle
If your operation screens lighter, wetter materials – mulch, topsoil and compost – a trommel screener is the way to go.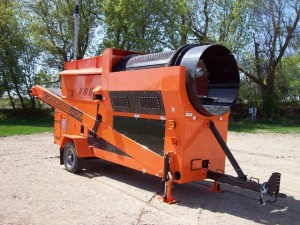 The constant tumbling action stirs up material over and over, fluffing it, adding air to lighten it, and keeping it contact with the rotating mesh longer.  This action allows more material through faster and easier.  Which makes the trommel the screener for landscapers, excavating contractors and municipalities.
So what makes the EZ-409 the better choice over other trommel screeners?  One big reason is the small price.  The price is low because we sell direct, one to one.  No sales force.  No inventory.  No showrooms.  No commissions.
Another reason is a whole lot of reasons: like a baked on powder-coat finish; vulcanized conveyor belts; a durable 50-HP Deutz diesel engine; auxiliary hydraulics for adding another stockpiling conveyor; and hydraulic jacks at the discharge end for proper tilt angle to adjust the material flow speed.
Like all EZ-Screen machines, the EZ-409 is easily trucked from job site to job site.  Set up is quick, too.  Working with a ½ to 1 ¾ loader, the EZ-409 is designed, engineered and manufactured to provide outstanding production for specialized screening operations. With its chain-driven heavy-duty rotating drum, the slipping that occurs in wet materials on wheel-driven competitive trommel screeners is eliminated.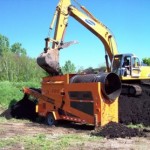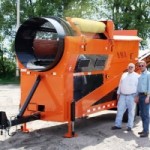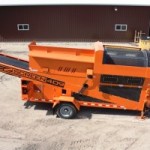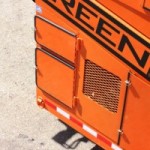 ---
"I call it my big, orange money machine."
 Desmond W., Windsor, VT
"Our EZ-Screen hasn't had even a minute of downtime. Nothing but on-site productivity."
 David M., City of Kirksville, MO
"How does it compare with competitors' screeners? Better and cheaper."
 Mark W., Arundel, ME
---
 New! 

 C-24 Self-Contained Diesel Drive Conveyor

---
EZ-409 Trommel Specifications
50 HP Deutz 3-cylinder air-cooled diesel
Enclosed engine compartment
Hydraulic tank: 90-gallon capacity
Replaceable spin-on hydraulic return filter
3-section hydraulic gear pump
28-gallon fuel tank
4′ diameter x 9′ long drum
4 removable screens
Variable speed chain drive, 0-25 rpm
(1) brush adjustable from the ground
24″ feeder belt, 2 ply 3/8 thick vulcanized, hydraulically driven
30″ fines conveyor belt, 2 ply 3/8 thick vulcanized hydraulically driven
Welded steel channel construction
All EZ-Screen surfaces have a baked-on powder coat finish
Single-axle with sealed wiring harness and electric brakes
2 hydraulically-operated jacks at tow bar end of machine
Removable tow bar with adjustable pintle hitch
TDOT lights
Weight: 12,500 lbs
Tongue weight: 1,640 lbs
Download the EZ-409 Trommel Brochure!
Designed by and built for Argus Industrial Co.